The Museum of the Albemarle's yearly regatta has rekindled interest in the Moth sailboat. After attending this race two years ago I was hooked, so I decided to build a Moth of my own.
I will explain the stages of building the Dorr Willey-designed Moth so the process will be inviting and easier for other builders.
The first step is obtaining the plans and building materials. The plans can be purchased from the Museum of the Albemarle (address at bottom of this page).
Lift the measurements for the frames from the plans onto a piece of plywood. Start construction by assembling each frame separately. They require about an hour each. Once the frames are assembled, arrange the building jig and tack standing with battens. (first photo below)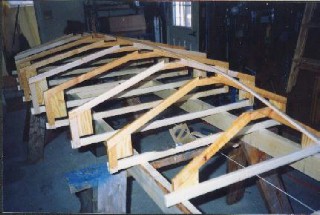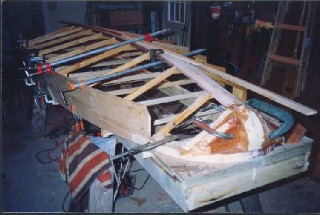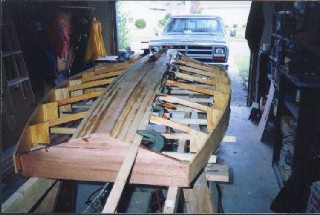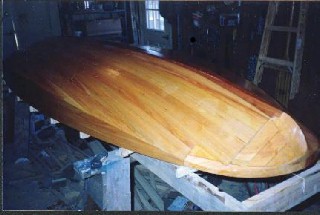 Next, make the nose block from laminated pieces of Juniper and shape roughly with a disk sander. This can be somewhat difficult because the plans don't indicate the shape or assembly. This part of the construction is left up to the builder's imagination.
Lay the keel with 3/8" x 4" pieces of mahogany laminated together and tied into the stem and transom.
Start planking. Marine plywood will make the boat faster and more durable. Glue the sides (3/8" Juniper) into place, smooth the bottom with sanders, and coat with WEST SYSTEMS Brand epoxy. Paint with enamel.
After building a cradle, flip the boat and install the mast step, centerboard trunk, and rear bulkhead. After the deck beams are installed, cut out and reinforce the cockpit and varnish the inside. (first photo below)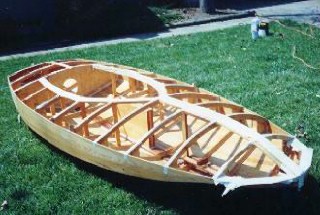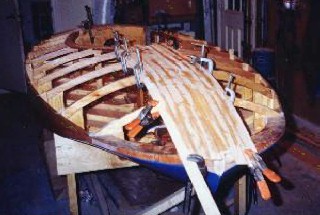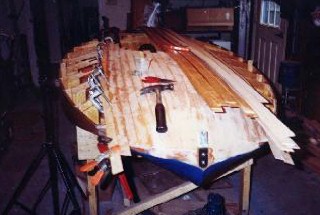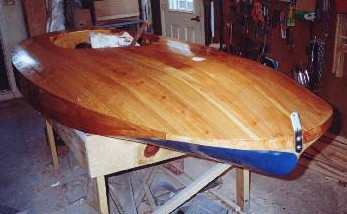 Materials Needed
6/16" thick Juniper strips cut from 5/4 stock
3/8" thick frames cut from 5/4 stock
1/4" thick marine or exterior grade plywood for reinforcement and a bulkhead
5/4"x4"x12' piece of mahogany for the keel
3/4"x6'x8' piece of mahogany for the transom
Miscellaneous chucks of Juniper for the nose block
3/4"x6'x8' piece of Juniper for the centerboard trunk
For Dorr-Willey Official Replica Moth Plans: Museum of the Albemarle - Hwy 17 South - Elizabeth City, NC 27909 - (919) 335-1453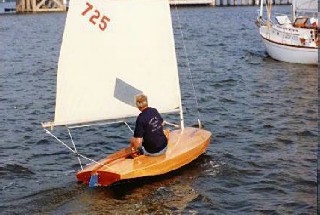 I launched my 106-pound Moth, TOMAHAWK, July 6, 1991.

Reprint of article appearing in "The Boat Builder" Spring of 1992 Number 32 feature article page 3 by kind permission of Gougeon Brothers, Inc.