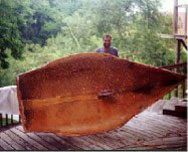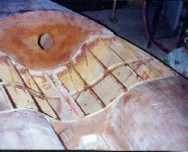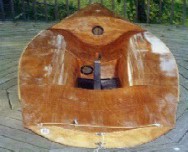 This spring, George Albaugh found "Mean Tangerine" moth #4067 hanging in a garage in Ocean City, NJ. The boat, a production fiberglass skol design, was last sailed in the early 1970's as an international moth. George prepared the boat with a tall rig for John Schneeman to sail in the modern division at Brigantine in June. After a day of racing that saw multiple capsizes it was obvious that Mean Tangerine needed some plugging and patching to make her seaworthy. George, Walt and I also discussed the possibility of modifying the hull (primarily removing the small winglets) and putting a small rig on her to allow the boat to sail as a classic moth.
I undertook the project with the following objectives in mind: first, I wanted to remove the fiberglass deck and redeck the boat with roll tanks and a small footwell like my mistral Try-Umph. My goal was to lighten the boat to near the 75 pound minimum weight of the CMBA and to make the boat completely self-rescuing. The deck layout would be supported by deckbeams over new ply transom and four additional ply bulkheads. The footwell would be small: 16" wide and 30" long. The hope was that with the boat capsized on her side the footwell would be completely clear of the water so that when the boat was righted she would come up completely dry. I decided a high crown foredeck would increase the boom height to make the boat easier to tack. Lastly, I would finish the deck bright to show the beauty of the mahogany ply. I had no intention of modifying the hull shape below the sheer. The hull was basically sound with few scratches.
The project started the day after we got back from Brigantine. I grabbed a circular saw and Walt grabbed the camera…. Two months later "Not So Mean Tangerine" was reborn in Charleston for the CYC regatta. The pictures tell most of the story. The deck layout works for most any hull shape. I have built the deck on my mistral, on a widened sprite for Merv Wescoat, and on the fiberglass skol. Next up: a similar deck on a ply shelley that George has found in New Jersey. Hopefully the shelley project will be completed in time for "The Meet in St. Pete".
See y'all there!